Fran O'Reilly
Primary tabs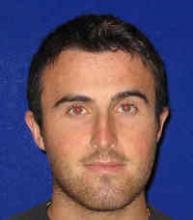 Title:
Dr. Fran O' Reilly; BA, MB BAO BCh
Biography:
Position: Graduate Medical Student
Personal
Fran is a graduate in Medicine from the Royal College of Surgeons in Ireland. Previous to this, he studied in Trinity College Dublin were he received a degree in Medicinal Chemistry.
Research Topic:
Fran was involved in the research of clinical prediction rules for appendicitis, particularly the Alvarado score. The Alvarado score stratifies individuals with suspected appendicitis into risk categories.
Research Output:
This systematic review was published in BMC Medicine in 2011. This work was also presented at the Society for Academic Primary Care (SAPC) conference in 2010, the Scottish School of Primary Care (SSPC) conference in 2011 and at the International Forum for Diagnostic and Prognostic Strategies in Primary Care in 2010.
Supervisor(s):
Dr Kirsty O'Brien, Dr Borislav Dimitrov, Professor Tom Fahey