Ji Fung Yong
Primary tabs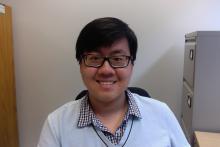 Biography:
Ji Fung has just completed his 2nd year of medical school in RCSI and is due to graduate in 2019 with the award of MB BCh BAO(NUI) LRCSI LRCPI. He previously studied in Taylor's College Sri Hartamas Campus in Kuala Lumpur, Malaysia.
Ji Fung was granted the opportunity to gain experience in relation to "Medicine's Reconciliation study" by working with the HRB team for 6 weeks. The main purpose of the research project is to screen and clean a large primary care cohort database, the MedRec data.
Ji Fung is currently working alongside Dr Emma Wallace, Dr Barbara Clyne, Professor Tom Fahey, Dr Atieh Zarabzadeh, Ms Norah Murphy, Dr Ronald McDowell and Ms Linda O'Connor.