Emma Wallace
Primary tabs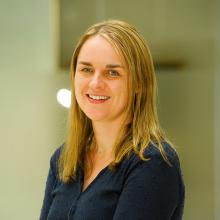 Title:
Dr Emma Wallace MB BAO BcH (Hons) BMedSci (Hons) MICGP PhD HDip (ClinEd) DCH
Biography:
Position: Senior Lecturer in General Practice
E-mail: emmawallace@rcsi.ie
Personal
Emma graduated with an honours degree in Medicine from University College Dublin in 2004. Following internship, she completed a four-year general practice (GP) specialist training programme in Dublin. She was awarded Membership of the Irish College of General Practitioners (MICGP) in 2009 and continues to work part-time as a GP in North Dublin.
Emma was appointed as Senior Lecturer in General Practice in 2017, having worked as a lecturer in in the Department of General Practice in RCSI since 2011. She is currently Director of the Senior Cycle General Practice teaching programme. She completed a Higher Diploma in Clinical Education in NUI Galway in 2009.
Research
Emma was awarded a Research Training Fellowship for Healthcare Professionals by the Health Research Board (HRB) in 2012 and graduated from the four-year HRB Structured Population and Health-services and Research Education (SPHeRE) PhD programme in 2015. Her PhD thesis was a prospective cohort study examining predictors of adverse health outcomes in older people attending general practice. Her research interests lie in the areas of optimising prescribing and managing multimorbidity in general practice and she is widely published in these areas. She has a particular interest in the use of clinical prediction tools to predict adverse health outcomes, including emergency admissions.
Memberships/committees
• Member of the Academic University Departments of General Practice in Ireland (AUDGPI) executive committee
• Member of the Irish Network of Medical Educators (INMED)
• Member of the Society of Academic Primary Care (SAPC), UK
• Member of the National Advisory group for medicines in Older People
• Member of the Herbal Medicines sub-committee advisory group for the Health Products Regulatory Authority (HPRA)
• Member RCSI Human Research Ethics committee
• Member RCSI Professionalism curriculum working group