Emma Wallace
Primary tabs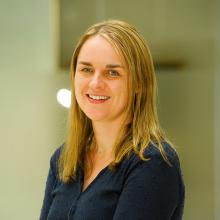 Title:
Professor Emma Wallace MB BAO BcH (Hons) BMedSci (Hons) PhD MICGP HDip (ClinEd)
Affiliation:
University College Cork (UCC)
Biography:
Position: Professor of General Practice, University College Cork
E-mail: ewallace@ucc.ie
Personal
Emma Wallace is a GP and Professor of General Practice in UCC. She previously held positions as Associate Professor and Senior Lecturer in General Practice in RCSI Dublin. Her research focuses on optimising prescribing for people with multimorbidity and ways of predicting risk of adverse health outcomes. She collaborates with researchers from a wide range of disciplines and institutions and uses mixed methods in her research including quantitative analysis of large, routine datasets; randomised controlled trials with parallel process evaluations and systematic reviews.
Emma is currently Principal Investigator on a Health Research Board (HRB) Emerging Clinician Scientist Award examining problematic polypharmacy in older people and a HRB Applied Partnership Award examining the development and dissemination of evidence updates for GPs. She is a core partner on a HRB Collaborative Doctoral Award programme examining "Right Care" in older people that is training a cohort of primary care scientists. In 2019, she was awarded the prestigious "Yvonne Carter Award for Outstanding New Researcher " by the UK Society of Academic Primary Care and Royal College of General Practitioners.
She is currently Chair of the ICGP Quality and Safety in Practice committee and an ICGP Council member. She is Chair of the Association of University Departments of General Practice in Ireland (AUDGPI) executive and sits on several international committees. She is an Associate Editor of the Journal of Comorbidity.
Emma graduated with an honours degree in Medicine from University College Dublin and completed a four-year postgraduate GP specialist training programme. She was awarded Membership of the Irish College of General Practitioners in 2009 and is a practicing GP. She was awarded a HRB Research Training Fellowship for Healthcare Professionals in 2012 and graduated from the four-year HRB Structured Population and Health-services and Research Education (SPHeRE) PhD programme in 2015. Her PhD thesis was a prospective cohort study examining predictors of adverse health outcomes in older people attending general practice.