Aisling Croke
Primary tabs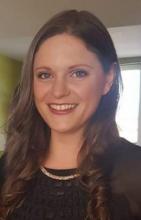 Title:
Aisling Croke, MPharm, BA, MPSI
Biography:
Aisling qualified as a pharmacist in 2013, having obtained a Masters in Pharmacy from the Royal College of Surgeons in Ireland. Since qualifying as a pharmacist she has worked in both community and clinical pharmacy settings.
Aisling is particularly interested in advancing the role of pharmacists in primary care. She has worked as a clinical pharmacist in a pilot study to test an intervention involving general practice pharmacists (GPPs), where she worked with GPs to optimize prescribing in Irish general practice settings. Her PhD will be focused on the development of the GPP role within the multimorbidity framework.
Since 2018 Aisling is a Health Research Board Collaborative Doctoral Award Scholar participating in the Structured Population Health and Health Services Research and Education (SPHeRE) PhD programme.