Manon Bolmer
Primary tabs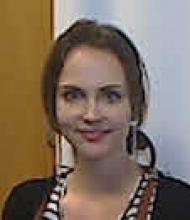 Title:
BSc- Student Medicine and Clinical Research Fellow
Affiliation:
University of Nijmegen - (NL)
Biography:
Personal
Manon Bolmer is a medical student from the Radboud University Nijmegen Medical Centre (RUNMC), the Netherlands. In 2012 she completed her bachelor in Medicine, receiving her BSc title. As part of her masters she undertook a research elective at the Royal College of Surgeons in Ireland (RSCI) at the Department of General Practice in Dublin
Research
After following three research orientated courses at the end of her bachelor, Manon undertook a Systematic Review and meta-analysis at The RSCI, on Clinical prediction rules for adverse outcomes in the elderly after visiting the emergency department or being hospitalized.
Grants/ Memberships
For undertaking her research elective she respectively received a grant from the Radboud University Medical Centre and Erasmus. She's an active member at 'The MFVN' the student organisation of the RUNMC, taking part in the Commission of Agenda's and Commission of Career.