Kirsty O'Brien
Primary tabs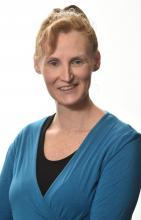 Title:
Dr. Kirsty K O'Brien, BSc(hons), MPH, PhD
Biography:
Position: Postdoctoral Researcher
Tel.: +353 1 4022716
E-mail: kirstyobrien@rcsi.ie
Personal
Kirsty graduated from the University of Aberdeen in Scotland with a BSc(hons) in Biomedical Science specialising in Pharmacology in 1998 and began her career in molecular biology based cancer research at the University of Dundee, Scotland. In 2003 she completed a PhD in Phenotype-genotype relationships in late onset dementia' in the Department of Neuroscience, Neurobiology and Psychiatry at the University of Newcastle Upon Tyne.
Kirsty moved to Ireland in 2004 to take up a Postdoctoral position at the Education and Research Centre (ERC) at St.Vincent's University Hospital in Dublin. The project was funded by an FP-6 Framework grant and involved epigenetic profiling of breast cancer patients with the aim of developing a gene expression based test to predict patient response to treatment (chemotherapy and/or tamoxifen) in breast cancer. In 2006, she joined the Nutritional Genomics research group at Dublin City University (DCU), on a project investigating genomic changes in folate metabolising enzymes.
In 2007, she received a Fellowship to complete a Master's in Public Health (MPH) at University College Dublin (UCD), which has allowed her to move her career from translational biomedical research into the field of primary care research.
Research
Kirsty has extensive research experience in health and translational research. In particular genetic epidemiology, pharmacogenomics, genotype-phenotype association studies, case-control studies, prognosis studies, survival analysis and more recently epidemiology, public health and health care research. Currently, Kirsty is involved in a number of projects related to medicine management in children and pregnant women. She is involved in a project investigating the health and healthcare needs of homeless people as well as a project investigating patients' preferences for referral when presenting to their GP with signs or symptoms of breast cancer. Kirsty is interested in clinical prediction rules (CPRs) and has been involved in three systematic reviews on CPRs and has also been involved in establishing an International Register of CPRs for Primary Care. Kirsty is also currently involved in a Cochrane systematic review on 'Antiviral agents for infectious mononucleosis (glandular fever)'.
Teaching/supervision
Kirsty has been involved in supervising undergraduate and postgraduate science and medical students undertaking research projects. She is currently involved in teaching on both the Masters in Surgery (MCh) and the short course in Health Research Methods.
Memberships / Awards / Grants
Kirsty is currently a member of the UK Society for Academic Primary Care (www.sapc.ac.uk). She received a PhD studentship in 1999 funded by the Medical Research Council in the UK and a fellowship in 2007 funded by the HRB.