Ronan McDonnell
Primary tabs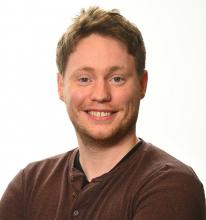 Title:
Dr. Ronan McDonnell BA (Mod)
Biography:
Website: ronanmcdonnell.com
Position: Post Doctoral Researcher in ICT
Personal
Ronan joined the HRB CPCR in October 2011. He was IRCSET/TRIL PhD Scholar under the supervision of Prof. Jane Grimson in Trinity College Dublin from 2007 till September 2011. As part of his PhD, he completed an internship in Intel Corporation under the mentorship of Dr. David Prendergast. He received a BA (Mod) in Computer Science from Trinity College Dublin in 2007.
Research
His research focuses on designing ICT tools to help with Clinical Decision Support, Clinical Prediction Rules and inappropriate prescribing, including the Irish Primary Care Research Network and the OPTISCRIPT study. His other research interests include the design of technology to enable self-management in chronic disease, mobile health (mHealth) technology and Human Computer Interaction, specifically in the area of health. He also developed and manages the HRB CPCR website.
He is currently co-supervising Dr. Patrick Redmond in his PhD Research, which focuses on the area of medication management and Patrick Lehane, a pharmacist and MSc in Health Informatics student in Trinity College, Dublin, whose research examines potentially inappropriate prescribing in nursing homes.
His PhD research was focused on designing technology for older people in care settings and whether it can be used as a way of reducing social isolation and increasing social engagement among this group. He designed, developed and evaluated a system for use in care settings as part of this.
He received his degree in Computer Science from Trinity in 2007, where his Final Year Project received an award from IBM for the use of open source software. In 2010 he won first place in the Young Researcher's Section at the Ambient Assisted Living (AAL) Conference in Odense, Denmark.