Melissa Sharp
Primary tabs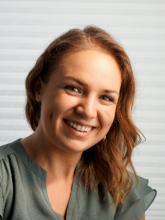 Biography:
Position: Postdoctoral Fellow
Email: melissasharp@rcsi.ie
Melissa is a postdoctoral fellow working on national clinical guideline development and evidence synthesis methods under the guidance of Dr. Barbara Clyne. Prior to this position, she was a Marie Skłodowska-Curie doctoral fellow with the Methods in Research on Research (MiRoR) International Training Network. Her work focused on reporting guidelines (for observational studies) and how they were used by authors and journals. She earned a joint doctorate in Epidemiology from The University of Paris and the University of Split.
She also previously earned a Masters in Public Health in Epidemiology with a Graduate Certificate in Public Health Informatics from Columbia University Mailman School of Public Health and a Bachelor of Science in Psychology with a Minor in Women and Gender Studies from Michigan State University. Melissa's research interests include meta-research, evidence synthesis, mental health, and sexual health.