Chiamaka Chiedozie
Primary tabs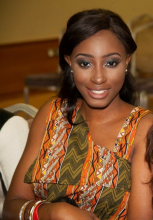 Biography:
Chiamaka Chiedozie just completed her 3rd year on the new Master of Pharmacy Program at RCSI and is due to graduate 2020. She was previously the president of the Caribbean African Society in the college.
Prior to commencing on the MPharm program, she obtained a BSc (Hons) Degree in Pharmaceutical Science from the University of Hertfordshire, United Kingdom. Her experience includes working alongside variety of healthcare professionals in both primary and secondary healthcare as well as carrying out scientific research during the course of her previous studies.
Chiamaka has a keen interest in quality healthcare and general public health. Her area of research involves the application of the Drug Utilization 90% (DU-90%) indicator to access the quality of prescribing in primary health care. She was awarded a summer student scholarship by the Health Research Board (HRB) to complete an eight week project at the HRB centre for primary care under the supervision of Dr. Frank Moriarty.