Karen Cardwell
Primary tabs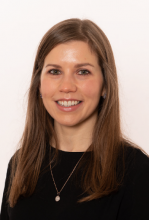 Title:
Dr. Karen Cardwell MPharm MPSNI
Biography:
Position: Postdoctoral Researcher
E-mail: karencardwell@rcsi.ie
Dr Karen Cardwell is a Postdoctoral Researcher in the Health Research Board-Collaboration in Ireland for Clinical Effectiveness Reviews (HRB-CICER), a collaboration between staff from Health Information and Quality Authority (HIQA) and the department of General Practice in the Royal College of Surgeons in Ireland (RCSI). In this role, Karen contributes to evidence synthesis of clinical effectiveness, safety, cost-effectiveness and budget impact data to inform the development of National Clinical Guidelines. Prior to this, Karen was Lead for Primary Care Development at the Northern Ireland Centre for Pharmacy Learning and Development (NICPLD), Queen's University Belfast (QUB). In this role, she led the training of pharmacists working in general medical practices across Northern Ireland, providing highly specialist clinical pharmacy education and training. Karen was also Project Manager for the Pharmacy Workforce Review in Northern Ireland to inform Health and Social Care workforce development needs for the period 2019-2029. Previously, Karen held a Postdoctoral Research position in the HRB Centre for Primary Care Research (CPCR), RCSI. She was Project Manager on the General Practice Pharmacist (GPP) Study, a pilot study to develop and test an intervention involving pharmacists, working with GPs, to optimise prescribing in Irish general practice settings. Karen completed her PhD at QUB and collaborated with researchers from the School of Population Health at the University of Auckland on an on-going longitudinal study of aging (Life and Living in Advanced Age: A Cohort Study in New Zealand [LiLACS NZ]). Her research focused on a range of issues pertaining to the use of medicines in older people. This includes multimorbidity, polypharmacy, potentially inappropriate prescribing (PIP) and the assessment of health-related outcomes. Karen has an MPharm and Postgraduate Certificate in Independent Prescribing from QUB.