Lisa Freyne
Primary tabs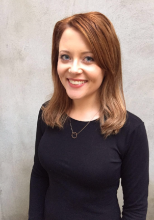 Biography:
Lisa has recently completed her second year studying medicine at the Royal College of Surgeons in Ireland. Prior to commencing her medical degree, she obtained a BSc Honours Degree in Speech and Language Therapy from the National University of Ireland in Galway. Her clinical experience includes working in acute and community care settings as a Speech and Language Therapist.
Research:
In 2016, Lisa was awarded a Summer Student Scholarship by the Health Research Board to complete a six week project at the The HRB Centre for Primary Care Research under the supervision of Dr. Emma Wallace. This patient orientated research aims to assess the impact of complex multimorbidity on adverse health outcomes in older community-dwelling people.
She was previously awarded a Boulos Hanna Summer Studentship to complete an eight week project in June and July 2015 as part of RCSI's Research Summer School. The Principal Investigator of the study was Dr. Frank Doyle from the Department of Psychology in RCSI. This research was a pilot study into the feasibility of student provided smoking cessation advice to inpatients in Connolly Hospital. Lisa delivered poster presentations of this work at RCSI Research Day 2016 and at the International Conference for Healthcare and Medical Students (ICHAMS) in February 2016.