Norah Murphy
Primary tabs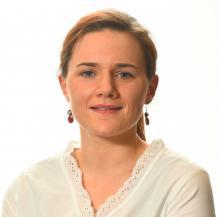 Biography:
Position: PhD Student and Research Coordinator of Masters of Surgery
Email: norahmurphy@rcsi.ie
Tel: 01 402 8593
Norah has a BSc International Development and Food Policy and a Masters in Public Health, both from University College Cork (UCC).
Norah is currently undertaking a PhD that is focusing on optimising safe prescribing for older community-dwelling adults attending general practice. Norah's PhD study is supervised by Dr. Emma Wallace, Professor Tom Fahey, and Dr. Fiona Boland. Norah also provides administrative support to the research modules of the taught Masters in Surgery programme.
Prior to taking up a research assistant position in the HRB Centre for Primary Care Research, Norah held a research and administrative position in the Health Information directorate of the Health Information and Quality Authority (HIQA). Working in HIQA, Norah was lead writer on two international reviews that focused on integrating national health and social care data collections and coordinating patient safety intelligence. Prior to working in HIQA, Norah held programme support positions in the Dublin and Ouagadougou offices of Plan Ireland, an international child rights organisation.