Muireann De Paor
Primary tabs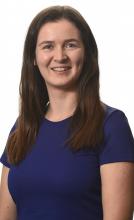 Title:
Muireann de Paor MB BCh BAO, BMedSc, MICGP, DOWH, DMSM
Biography:
Title: GP
E-mail: muireanndp@hotmail.com
Personal
Muireann de Paor graduated from UCC in 2005 and completed GP vocational training with the Naas/Mid-Leinster GP training scheme in 2011. She works part-time as a GP in a clinic for homeless people in Dublin city, and part-time in the Department of General Practice RCSI as a research fellow.
Research
Muireann has recently completed a Cochrane review: 'Antivirals for Infectious Mononucleosis'.
As part of her PhD research she is currently developing a protocol for a study of Infectious Mononucleosis in primary care. The three main aims are:
- to develop a clinical prediction rule (like the Centor Score for Strep throat) which will aid in the diagnosis of Infectious Mononucleosis. There hasn't been one developed to date. The reasons for having an early positive clinical diagnosis of IM are to guide symptomatic management and advice for patients (avoiding potential complications eg splenic rupture if patient is not aware of their diagnosis), to give a more accurate prognosis, and to avoid unnecessary side effects from inappropriate antibiotics.
- to study the natural history of Infectious Mononucleosis in terms of patient-centred outcomes including time missed from college / work; persistent fatigue/quality of life 3 and 6 months
- to externally validate the Centor score clinical prediction rule to investigate whether the Centor score performs well in Irish primary care patients.
Qualifications
MB BCh BAO
MICGP
Dip Women's Health
Irish Family Planning Certificate
ICGP Certificate in Palliative Care
ICGP Diploma in Musculoskeletal Examination and Injury Management
ICGP Certificate in Minor Surgery