Frank Moriarty
Primary tabs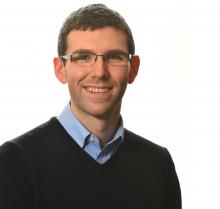 Title:
Frank Moriarty BSc (Pharm), MPharm, PhD, MPSI
Biography:
Position: Postdoctoral Researcher
Personal
Frank qualified as a pharmacist in 2011 having obtained a Bachelor of Science (Pharmacy) from Trinity College Dublin and a Masters of Pharmacy from the Royal College of Surgeons in Ireland. He completed his PhD in 2016 as part of the HRB Scholars Programme in Health Services Research (the SPHeRE programme), which was entitled "Pharmacoepidemiology and economic evaluation of measures potentially inappropriate prescribing". Frank also has experience practicing as a community pharmacist.
Research
Frank's research interests include evidence-based medicine, health economics, medicines management in older people, and secondary analysis of routinely collected data. His doctoral research focused on potentially inappropriate prescribing in middle-aged and older people in primary care and used quantitative and economic modelling methods to assess its impact on patient and cost outcomes. As a postdoctoral researcher, Frank's current work addresses variation in prescribing, medications management and safety, and deprescribing in older patients. He was awarded a James M. Flaherty Research Scholarship from the Irish Canadian University Federation to develop this research further and will be visiting the University of Ottawa and McMaster University in April and May 2017. He is also a Visiting Research Fellow at The Irish Longitudinal Study on Ageing (TILDA). Prior research experience includes evaluation of a pharmacy-based smoking cessation programme and organisational change management applied to pharmacist vaccination service training.
Teaching
Frank has previous experience of teaching and assessment of RCSI School of Pharmacy students on the topic of community pharmacy practice and minor ailments. He holds an honorary lecturership at the School of Pharmacy and the HRB Centre for Primary Care Research and currently lectures on the Short Course in Health Research Methods and delivers teaching on medicines management in older people to pharmacy, physiotherapy and interprofessional education groups. He also acts as an OSCE (Objective Structured Clinical Examination) assessor for medical students in their GP module and for pharmacy interns as part of the Professional Registration Examination.