Tamasine Grimes
Primary tabs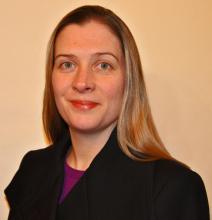 Title:
Dr. Tamasine Grimes, B.Sc.(Pharm.), M.Sc.(Hosp. Pharm.), P.G.Dip (HSM), PhD, MPSI
Biography:
Position: Associate Professor in Practice of Pharmacy, Trinity College, Dublin (half-time) and Senior Research Pharmacist, Tallaght Hospital (half-time).
Tamasine graduated from TCD in 1998 and registered as a Pharmacist in 1999 after completing her pre-registration training in St James' Hospital, Dublin. In 2000, Tamasine took up post in Tallaght Hospital as a clinical pharmacist and graduated with a M.Sc. in Hospital Pharmacy from TCD in 2002. She has worked in the community pharmacy sector for a number of years before returning to hospital and academia. The experiences that Tamasine gained working in both primary and secondary care settings motivated her to engage in research regarding medication safety at points of handover of care. For further information on her research and teaching activity see here.