Claire Keogh
Primary tabs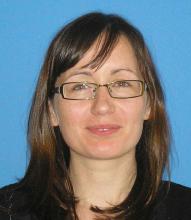 Title:
Dr. Claire Keogh BA(Psych), PhD
Biography:
Position: National Collaborator
Tel: +353 1 402 2317
E-mail: clairekeogh@rcsi.ie
Personal
Claire Keogh graduated with a BA in Psychology in 2004 from NUI Maynooth, where she also completed her PhD in 2008. Her doctoral research was entitled "Cognitive defusion and negative self-relevant thoughts: An experimental analysis" and was funded by the Irish Research Council for the Humanities and Social Sciences (IRCHSS). Following this, Claire gained postdoctoral experience in the Division of Primary Care at the University of Liverpool, investigating emotional health in cancer within hospice settings. Claire joined the RCSI in 2009 until 2013 as a Postdoctoral Research Fellow at the HRB Centre for Primary Care.
Research
Claire has research experience in psychological, experimental, epidemiological and public health study design and statistical analysis. Claire was involved in establishing an International Register of Clinical Prediction Rules for Primary Care, systematic reviews of clinical prediction rules and medicines management in vulnerable populations.
Teaching / Supervision
Claire taught a number of research methods modules on both the Masters in Surgery (MCh) and the Practical Course in Health Research Methods. She was responsible for the thesis supervision of a number of students on the Masters in Surgery course. In addition, Claire supervised several research interns at the HRB Centre for Primary Care Research.
Claire has previously lectured in a range of Psychology modules at both undergraduate and postgraduate levels. Modules include Developmental Psychology and Abnormal Psychology, as well as qualitative and quantitative data analysis methods. She has also assisted in the supervision of a number of undergraduate research projects in behaviour psychology.
Memberships / Awards / Grants
Claire is currently a member of the UK Society for Academic Primary Care.
Her PhD research was funded by the Irish Research Council for the Humanities and Social Sciences (IRCHSS). During this time, she also successfully competed for funding from both NUI Maynooth and the Association of Behavior Ananlysis International (ABAI) to present her research findings at a number of international conferences.