Colm Geraghty
Primary tabs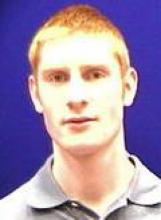 Title:
Dr. Colm Geraghty MB, BCh, BAO (NUI) LRCPSI (Honours)
Biography:
Position:
Dr Colm Geraghty graduated from medicine at the Royal College of Surgeons in Ireland in May 2008 and completed his internship in Connolly Hospital Blanchardstown in June 2009.
Research Topic:
Colm completed a systematic review and meta-analysis of studies that validated the ABCD2 clinical prediction rule. The ABCD2 rule is used to stratify risk of stroke following transient ischaemic attack.
Research Output:
The systematic review was published in Family Practice in 2011. Colm also presented a poster presentation of this work at the Irish Heart Foundation Annual Stroke Study Day 2010. The work was also presented at Society for Academic Primary Care conference 2010 and Society for Social Medicine conference 2010.
Supervisors:
Dr. Rose Galvin, Professor Tom Fahey