Andrew W Murphy
Primary tabs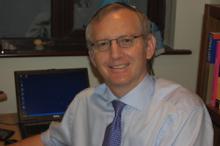 Title:
Professor Andrew W Murphy, MD, FRCGP, MICGP, DCH, DObs, DIMC, HDOH, LFOM, CertPoplnHlth(Aus)
Biography:
Position: Professor of General Practice
E-mail: andrew.murphy@nuigalway.ie
Personal
Andrew qualified in medicine from Trinity College Dublin in 1988, completed his higher general practice training in 1992, was awarded an MD in 1996, a Fellowship of the Royal College of General Practitioners in 2004 and a Graduate Diploma in Clinical Epidemiology in 2006. He was a Visiting Professor to the University of Adelaide and Flinders University for the year of 2004.
Research
Andrew's main research interests are: the management of cardiovascular disease in the community; patients' health and healthcare perspectives; professional practice (with an emphasis on rural health) and medical educational research.
He was principal investigator of the Health Research Board (HRB) funded five year research programme on the provision of secondary cardiac care in the community which is the largest non-pharmaceutical trial ever conducted on the island of Ireland ( www.spherestudy.com/).
He is also Inaugural Chair, since 2006, of the multidisciplinary NUI Galway Centre for Clinical Health Services Research and Development www.nuigalway.ie/cchsrd/
Teaching
Postgraduate
Diplomas in Primary Care, Clinical Primary Care, Practice & Community Nursing:
Undergraduate Teaching:
1st and 2nd Medical year
Memberships / Awards / Grants
2006- Inaugural Chairperson, Centre for Clinical and Health Services Research, NUI Galway
2005- Inaugural Chairperson, Ethics Committee NUI Galway
2004- Chairman, Association of University Departments of General Practice in Ireland (AUDGPI)
2004-8 Member, Population Health, Epidemiology and Health Services Committee of Health Research Board
2002-8 Member, National Advisory Forum on Cardiovascular Strategy
2000-4 Secretary, Association of University Departments of General Practice in Ireland (AUDGPI)
Winner IJMS Best General Practice Paper 2007, 2008, 2009
Andrew has published over fifty peer reviewed articles and two book chapters and, in the last five years, received over 3.5 million euro in research monies - 2.1 million as principal investigator.