Caroline McCarthy
Primary tabs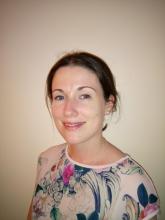 Title:
Dr Caroline McCarthy MB BCh BAO MICGP
Biography:
Biography
Caroline graduated from Trinity College in 2009. She completed her intern year in St James' Hospital and then went on to train as a GP with the North Eastern Regional G eneral Practice Training Scheme. She completed her post graduate training in 2015, having taken some time out to have her children.
Caroline is currently working part time as a GP in Co. Meath. She joined the HRB centre for primary care research in 2016 and is undertaking an MD looking at medicines management in multimorbidity. She is also a clinical competencies tutor for junior cycle medical students.