Tom Fahey
Primary tabs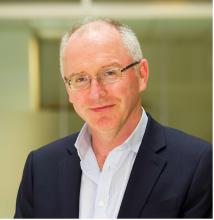 Title:
Professor Tom Fahey, MSc MD DCH DObs MEd Cert MFPH FRCGP
Biography:
Position: Head of Department and Principal Investigator
Tel / Fax: +353-1-402-2305 / +353-1-402-2764
E-mail: tomfahey@rcsi.ie
Personal
Tom Fahey is Professor of General Practice in RCSI and is Principal Investigator for the HRB CPCR. He graduated in Medicine from University College Dublin (UCD) in 1986 and subsequently trained in General Practice and Public Health Medicine. Previous posts include: Professor of Primary Care Medicine, University of Dundee (2002-2006), Senior Lecturer in Primary Health Care, University of Bristol (1995-2002) and Honorary Lecturer in Public Health (University of Oxford, (1992-5).
Prof Fahey has over 20 years of experience in clinical general practice which includes working as a GP in Oxford, Bristol, Dundee and Dublin. He is a member of the Advisory Committee for Human Medicines, Irish Medicines Board and the Irish College of General Practitioners (ICGP). He combines clinical work with teaching and research, and continues to see patients at Belgrave Clinic, Dublin.
Research
Prof Fahey has a longstanding interest in applied Clinical Epidemiology or Evidence-Based Medicine. The CPCR research programme reflects a programme of activity that encompasses appropriate prescribing to vulnerable patient groups, evidence-based diagnosis and implementation of research with the use of computer-based Clinical Decision Support Systems (CDSSs).
Memberships / Awards / Grants
Co-leader of the Cochrane Collaboration Primary Health Care Field (2006)
Assistant Editor / Editorial Board Member Family Practice (2004)
Member of the Editorial Boards of the British Medical Journal (BMJ) (2006), BMJ Case Reports (2008), BMJ Open (2010), Cochrane Collaboration Acute Respiratory Infections (ARI) Group (2001) and BioMed Central Family Practice (2001)
NHS R&D National Primary Care Career Scientist (1999-2002)
UK RCGP & Boots Research Paper of the Year Award 2000 and 2003
RCGP John Fry Award (2003)
BMA Medical Role Model (2005)
Teaching and training
Undergraduate- responsible for running the undergraduate programme for 320 students per year in RCSI
Postgraduate PhD training- member of the HRB PhD Sphere programme. link
Previous supervision- successfully supervised six PhD and two MD students. Whilst in the UK received funding four Medical Research Council (MRC) Fellows; one Wellcome Entry Level and one full Wellcome Clinical Research Training Fellow; two National NHS R&D fellows; and two Chief Scientist Office (CSO) Fellows.
Erasmus student exchange programme- supervises and supports medical undergraduate students from Radboud University, Nijmegen, The Netherlands
Prof Fahey has been awarded over 50 peer-review research grants (grant income as principal or senior investigator is €5,962,205 and €5,679,737 as a collaborator).