Paul Dillon
Primary tabs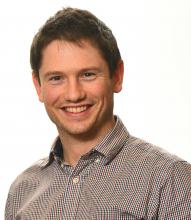 Title:
Paul Dillon BSc (Pharm), MPharm, MPSI.
Biography:
Position: Senior Demonstrator (School of Pharmacy)/PhD Student
Email: pauldillon@rcsi.ie
Paul is a qualified pharmacist having completed both his bachelor's and master's degree at RCSI. Following the completion of his studies he has worked in various roles including community pharmacy and in European medicines regulatory agencies including the Irish Medicines Board (IMB), European Medicines Agency (EMA), and the Direction européenne de la qualité de médicament et soins de santé (EDQM). Paul is undertaking a PhD with the School of Pharmacy and is jointly supervised by Gráinne Cousins, Prof Paul Gallager (School of Pharmacy) and Prof Susan Smith (Dept of General Practice). Paul previously worked as research assistant with the HRB Centre and published work from the Maternity safe prescribing project using the Irish Primary Care Research Network (IPCRN).
Research Topic
Adherence to anti-hypertensive medication in the elderly
Supervisor
Dr Gráinne Cousins, Prof Paul Gallagher, Prof Susan Smith