Áine Ryan
Primary tabs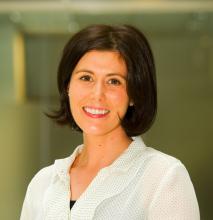 Title:
Áine Ryan BSc (Physio), MSc, PhD, MISCP
Biography:
Position: Lecturer School of Physiotherapy
Email: aineryan@rcsi.ie
Personal
Áine Ryan graduated from Brunel University, London in 2003 with a BSc (Hons) in Physiotherapy. She has over 10 years' experience as a chartered physiotherapist working between two teaching hospitals in Dublin (AMNCH and SVUH) along with private practice. Áine has held senior roles in musculoskeletal outpatients, rheumatology, pain management and orthopaedic triage. Between 2008 and 2010 she completed an MSc in Neuromusculoskeletal Physiotherapy in University College Dublin. She is a member of the Chartered Physiotherapists in Musculoskeletal Physiotherapy (CPMT) clinical interest group and from 2011 -2016 held the role of Research & Development Officer. She is currently a board member of the Irish Society of Chartered Physiotherapists (ISCP) holding the role of Director of Professional Development. Áine is also Chairperson of the Professional Development Standing Committee of the ISCP.
Research
Áine returned to full-time education and research in September 2013 and commenced as a HRB PhD Scholar in Population Health and Health Services Research (SPHeRE Programme) based in the HRB Centre for Primary Care Research in RCSI. The focus of her PhD was physical activity and function in patients with multimorbidity (multiple chronic conditions). Áine's PhD was completed under the supervision of Prof. Susan Smith (RCSI), Dr Rose Galvin (UL) and Dr Catriona Murphy (DCU). Areas of research experience include systematic review methods, analysis of The Irish Longitudinal Study of Ageing (TILDA) and intervention development. Her current areas of research interest are non-invasive interventions (physical activity and exercise) in chronic diseases.
Teaching
Áine has been a guest lecturer in the three Schools of Physiotherapy in Dublin (RCSI, TCD, UCD). She is currently lecturing full time in RCSI where she is responsible for teaching, examining and module coordinating in the BSc Physiotherapy programme. Áine also lectures on the MSc Neurology and Gerontology (Physical Activity and the Older Person) along with interprofessional education tutorials in RCSI.